Outdoor Lighting & Electrical Wiring
Exterior Lighting, Outlets and Security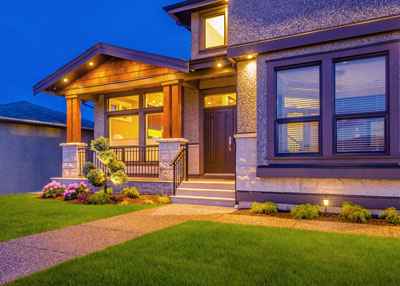 Well-designed lighting makes any outdoor space increasingly more pleasurable and secure, too. Utilizing the full functionality of your backyard for summer living and entertaining does not require a full blown electrical upgrade or electrical system overhaul.
Whatever your outdoor lighting and outdoor electrical work needs, Simply Shocking is available to those in the Clackamas, Oregon City and Portland, OR areas to assist with your specific needs.
Outdoor living spaces are a great way to take advantage of the beautiful summer evenings in the Portland Metropolitan area and can add significant value to your home in the process.
One of the hottest trends in remodeling today is outfitting homes with bigger decks, outdoor spas, and outdoor kitchens. Some folks even purchase weather proof televisions to enjoy their favorite television shows or movies from the comfort of their new and improved outdoor living space.
Porch, Deck and Patio Lighting
Outdoor improvements such as expanding a deck or patio is a great time to consider upgrading your outdoor lighting and electrical work. Simply Shocking can install several well-placed low-wattage lights, to create a pleasant setting that is easy going and relaxing. Furthermore, low lighting in an outdoor living space is far more conducive to star gazing and is easier on the eyes as well.
Outdoor Kitchen Electrical and Lighting
An emerging trend in outdoor living spaces, is a complete outdoor kitchen for entertaining on hot summer nights. Simply Shocking can help you make your outdoor kitchen into a reality by professionally preparing the outdoor electrical system to accommodate such an investment. High quality outdoor electrical service is needed to ensure your outdoor kitchen is stable and protected.
Exterior Home Lighting
Simply Shocking can also assist you with everyday outdoor electrical needs such porch lights, front and back, and lights on the garage which can be easily to overlook but should not be because they add safety year round. We also have vast experience performing outdoor shed lighting upgrades as well in addition to garages and other outdoor storage buildings.
Additionally, most newly built homes feature both decorative and security lighting that give your home great curb appeal while deterring would-be thieves. Retrofitting existing home with decorative and security lighting, in a variety of energy-saving modes, is also a great idea.

Path Lighting
Steps and walkways are a particular area to pay attention to in outdoor lighting as it is an opportunity to dramatically increase the aesthetically pleasing look of an outdoor living space. Properly lit steps and walkways also provide added security from falls and other accidents especially in the evenings.
Choices for Outdoor Lighting Fixtures
The choices of outdoor lighting and electrical fixtures are infinite and the options are endless in terms of style and functionality. In recent years, and as the trend toward outdoor living spaces has grown, so has the number of poor quality and potentially unsafe products on the market.
Ensuring your outdoor electrical system is as safe as possible requires the attention of a Master Electrician and Simply Shocking is available to provide a wide array of outdoor electrical services that are guaranteed to be safe for you and your family.
When you decide it is time to replace your outdated outdoor electrical fixtures with more functional and decorative lighting, or when you are ready to build an outdoor kitchen, spa or living room, the Master Electricians at Simply Shocking are available to provide you with designs and installations that will not only highlight your outdoor experience, but will safely stand the test of time and the extremes of Pacific Northwest weather.
Commercial and Residental Electrical Contractor Servicing these Portland, Oregon areas.