Kitchen and Bathroom Remodeling Electrician
Kitchen and Bathroom Remodel Electrical Services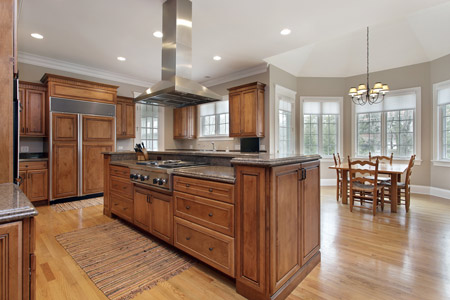 Simply Shocking has built a reputation of professionalism, competence and efficiency, making us the best choice for electrical services associated with custom kitchen and bathroom remodeling for the Portland, Clackamas and Oregon City areas. Our electricians have been in many different homes emulating various styles and designs to conduct kitchen and bathroom wiring services, making us experts in custom home rewiring.
We are confident that our expertise will assist you in lighting up your home in a way that will successfully showcase your individual style and taste. Simply Shocking understands that proper lighting in any space can make it feel warm, inviting and comfortable. Let us help you transform your home into the personalized space you want it to be. Call us now for more information or to get your free quote today!
Custom Kitchen Wiring Service
The opportunities for custom kitchen lighting design are endless. Depending on your personal preference, we can offer suggestions on how to best show off one of the most important rooms in your home. People tend to spend a lot of time in the kitchen, so why not make the most of the space by installing canned, recessed, pendant or flush lighting. We can also install under cabinet lighting, accent lighting, and much more!
If you are conducting a remodel, Simply Shocking has experience working collaboratively with other contractors if the need arises. We pride ourselves for our ability to provide superior kitchen lighting services for all of our valuable customers.

Custom Bathroom Wiring Service
Although bathrooms tend to be smaller spaces, they are a popular choice for upgrades and remodels, especially in older homes. We have seen hundreds of bathrooms, and we know how to maximize the beauty of the space through various lighting design techniques.
Our custom bathroom lighting service is guaranteed to make your bathroom sparkle. Our professional electricians know how to effectively work around plumbing fixtures to ensure the job is done skillfully and quickly.
Commercial and Residental Electrical Contractor Servicing these Portland, Oregon areas.