We live in a time where you can simply walk into a room and speak out loud to turn on a light, change the temperature or play some music. That power doesn't come from magic, though. You need to make sure your home can handle all the added juice needed to run all these technological advances. 
Two rooms that are important to think about in terms of electronic needs when considering a remodel are the kitchen and the bathroom. 
What to think about when it comes to a bathroom and kitchen remodel
One of the first things to consider when looking at remodeling your kitchen and/or bathroom is your service panel. You're going to need a panel that can handle the extra load from additional circuits that come with new or updated appliances. It can become quite dangerous to have a service panel with too many circuits, so depending on what's there already and what you're looking to upgrade, you might have to have a new panel installed. There's also the option of adding a panel to help balance things out, as well.
Another thing to think about in terms of safety is the wiring. Up-to-code electrical wiring ensures that a home is not only functioning as efficiently as possible but as safely as possible. Whether or not you should update the wiring in your home depends on the age of your home, which are licensed and trained electricians will be able to get a better eye on once they're taking a look inside your wall.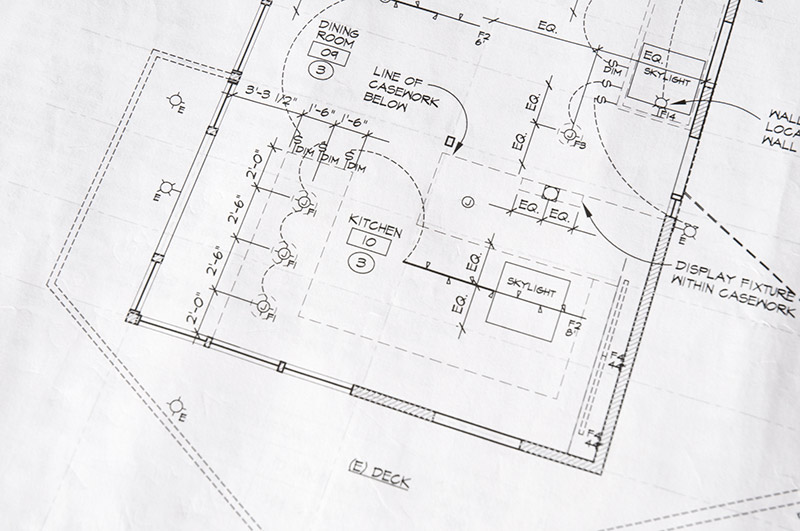 Kitchen-specific issues to consider
When remodeling your kitchen, start to think early and often about where you want everything to go. One of the biggest things to consider in a kitchen remodel from an electrical standpoint is where to put all these outlets. 
Larger appliances, like a range and the refrigerator, require their own circuits. Smaller, but still major, appliances can sometimes be put on the same circuit, such as a microwave and garbage disposal. 
It's also important to think about where you'll want to use the smaller, more mobile appliances. While you're typically not going to move around something like a microwave, you'll need to know where you plan on using something like an electric can opener or a mixer, as you'll need outlets to plug those things in. 
But the electric aspect of your remodel isn't just about appliances. You also have to consider your lighting options. You're going through the trouble of remodeling one of the rooms where families spend a lot of time. You want it to look its best. Simply Shocking has electricians with experience installing canned, recessed, pendant or flush lighting in kitchens. We can also install under cabinet lighting and accent lighting. 
No matter what kind of countertops and backsplash you pick, Simply Shocking can ensure you'll have the power for everything to run smoothly and the lighting to make sure it all looks immaculate. 
Bathroom-specific issues to consider
When it comes to the bathroom, there are fewer appliances than you'd typically have in the kitchen, but there's still plenty to consider. One thing a bathroom has you don't see in many other places in the house is a ventilation fan. Bathrooms tend to be moist, so the ventilation fan helps dry it out and can be a great addition to your bathroom even if there's already a window. 
There are also a few places you want to make sure to have lighting in the bathroom, and the lights and vent fan must be on different circuits. First, you're going to want great lighting by the mirror and sink. Whether you spend the most time there to brush and floss, shave or put on makeup, you're going to want to see what's going on. 
You're going to need specially categorized lighting near or above a shower or tub, light fixtures that are rated for damp locations or wet locations. Again, you have plenty of options for the types of light fixtures you can have in those areas. Simply Shocking has experience installing all of them. We can make you forget you're singing alone in the shower and make you think you've got the spotlight on you as you sing in front of a roaring crowd of thousands. 
No matter what you want to do in your kitchen and bathroom, make sure to consider the electrical when remodeling. Give us a call today to help you with all your electrical needs. 
If you have questions best to call the experts at Simply Shocking Electric, who have been providing excellent service in the Oregon City, Portland, OR, and Clackamas, OR., area for more than a decade. If you're thinking of (insert key search term and/or subject of blog) , reach out to Simply Shocking Electric for a free estimate at 503-309-0866.